AUGLE is an augmented reality (AR) app that partners with local artists to enhance the public art experience. Being a small Calgarian start-up, the team was looking to enhance the app experience through a redesign.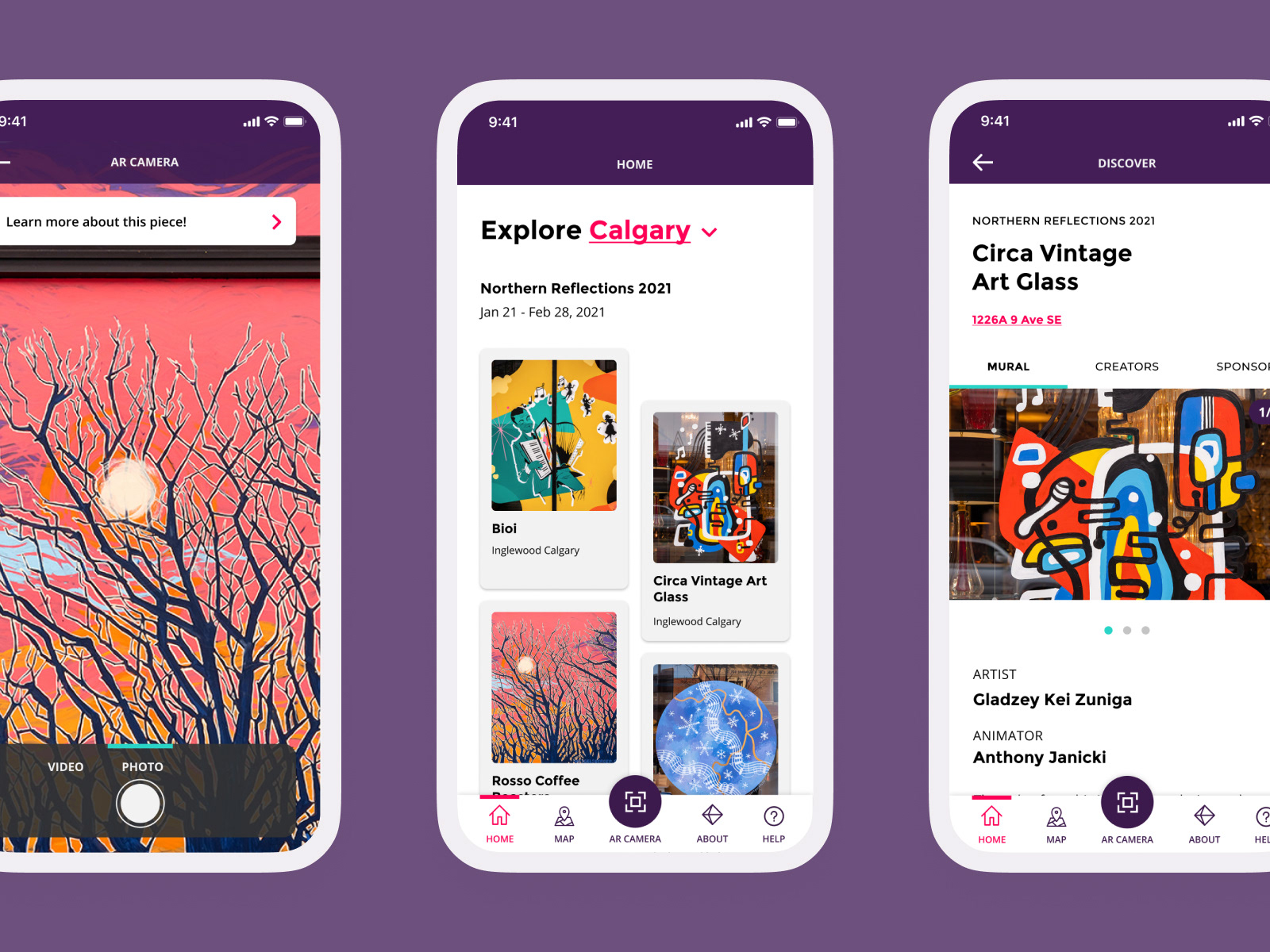 Finding pain points
Talking with the AUGLE team, the app has been through 3 design iterations, one better than its predecessor. Still, the app had a few pain points that needed to be addressed:
Usability: 
multiple styles of interactions  |  confusing waypoints
Visual Aesthetic: 
spacing issues  |  legibility and accessibility issues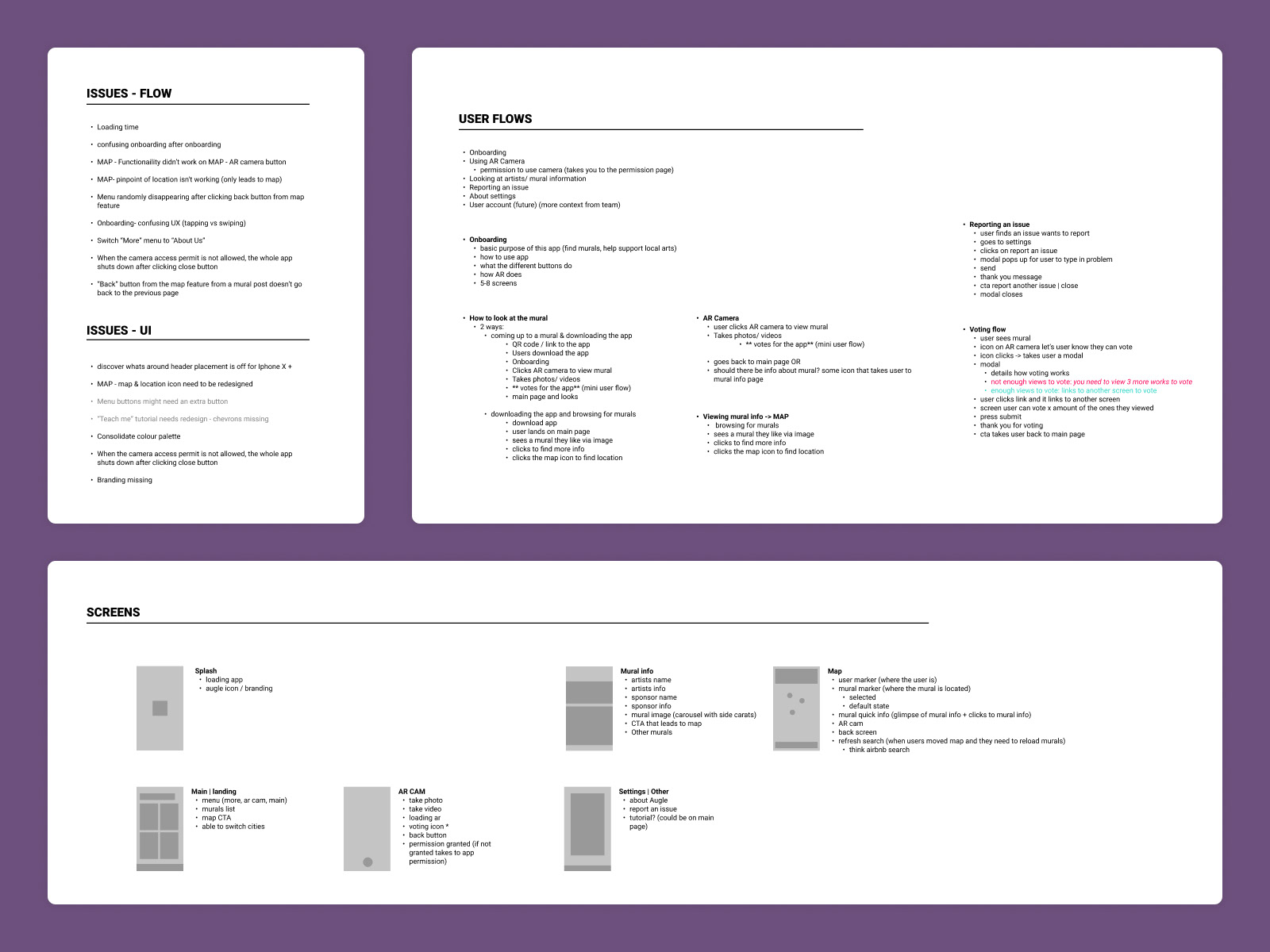 Mapping out everything
Being an AR app, AUGLE's interaction was mainly focused on the camera functionality. Making the camera icon the main focus on the menu bar would allow users to know what to click first after landing on the home page. The camera screen would then guide users to different areas of the app. Since AUGLE is a tool to showcase local artists; the main page is designed to act like a gallery similar to a pamphlet to introduce the types of events and art pieces.

I started out listing all the touchpoints the user would be interacting with and introducing different functionalities to each touchpoint. This included how each touchpoint was related to one another and the steps in creating them.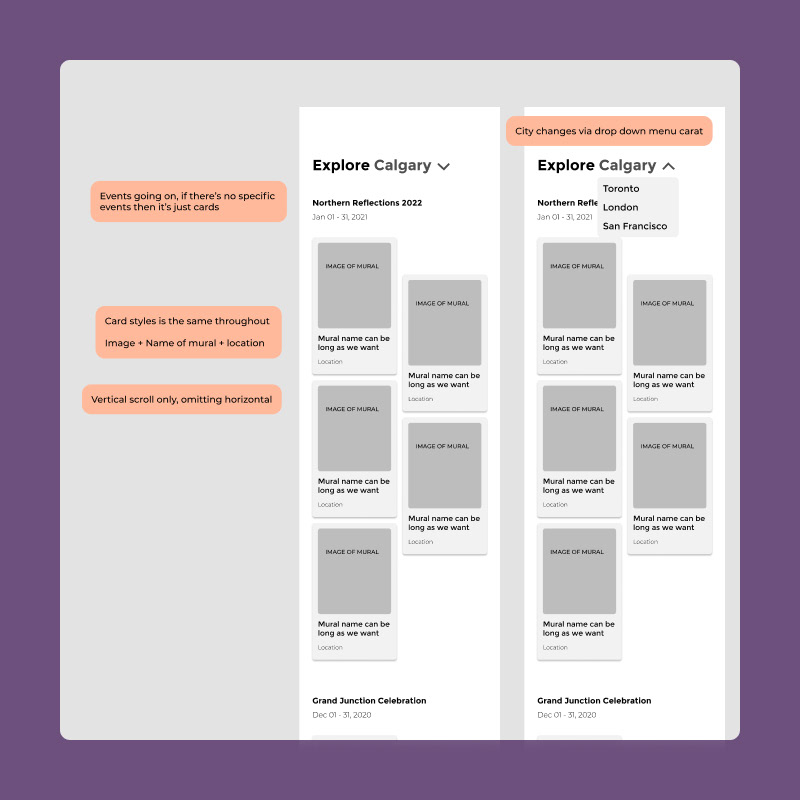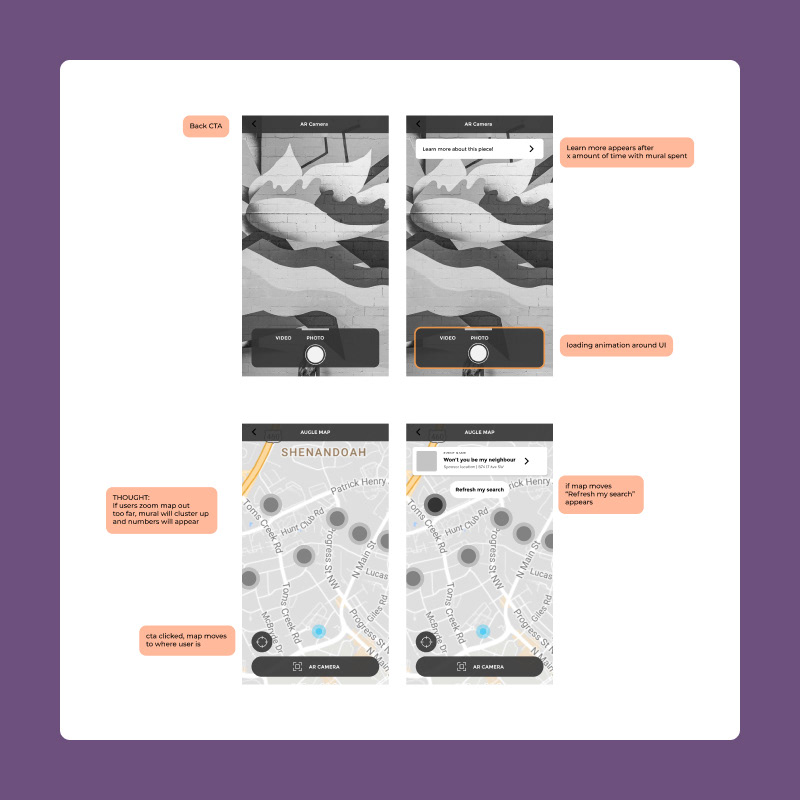 Another aspect of the user flow was how the current touchpoints would interact with future features. Voting and user accounts were features the AUGLE team wanted to implement, so designing the screens took account of these future features.
Putting the skin on
Working with another awesome designer, Wooju Hong. We both worked on simplifying the palette and typography, resulting AUGLE not only has its own unique look and feel but also for future designers and developers to have a more construct library to work with. Aside from the visuals, we made sure the interactions were simple and accessibility was thought through.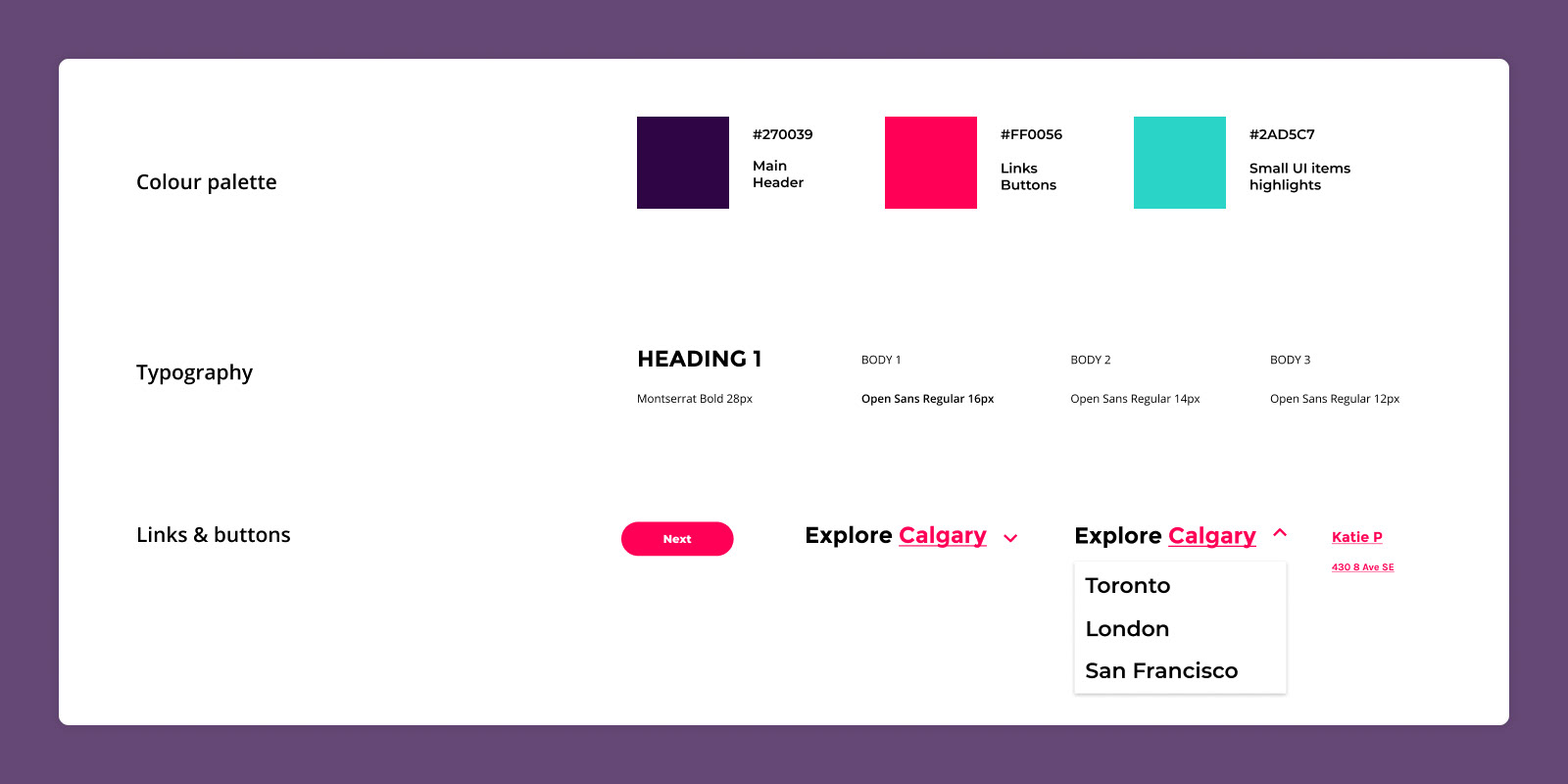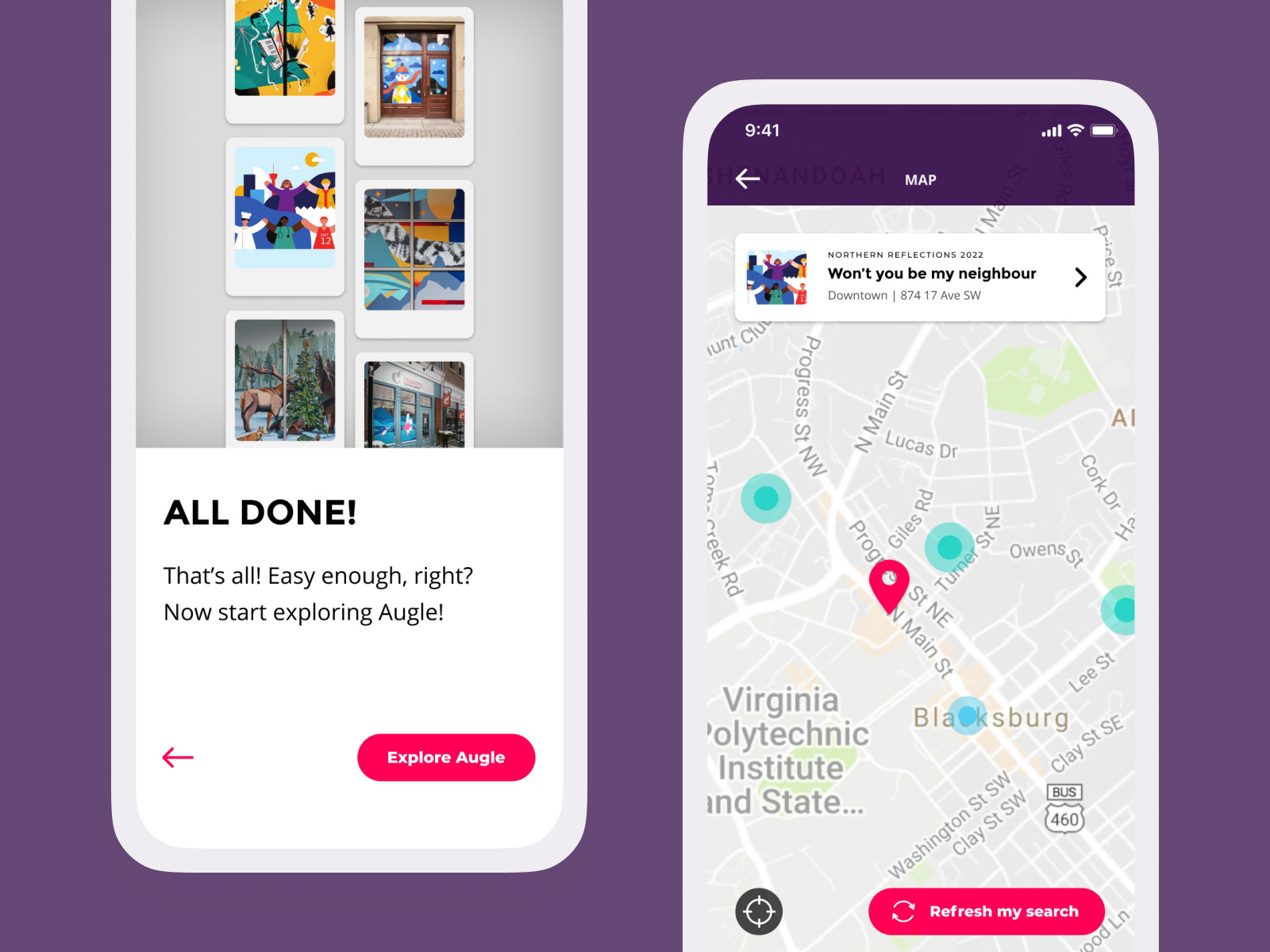 Small changes, big impact
Using some of the previous AUGLE build designs as a backbone, the team was able to recognize pain points and update the app to enhance the user experience. 
Usability: 
 specific interactions for specific uses  |  clear camera functionality
Visual Aesthetic: 
simplified colour palette and type  |  legibility and accessibility considered